The 6×139.7 bolt pattern is the original wheel lug nut configuration for the Toyota Tacoma. All successive truck models have used this design since the 1995 Tacoma introduced it, notably other mid-size and full-size pickup trucks and SUVs.
Hang in there! There is more to unfold about the 6×139.7mm pattern if you're still a stranger in this field.
In this article:
Understand The 6×139.7 Wheel Bolt Pattern
The 6×139.7 pattern is a wheel mounting configuration. The number "6" denotes the quantity of lug nuts, and the value "139.7" indicates the millimeter-based diameter of the circle the lug nuts make. As the distance between the bolts is the same but measured in inches, it is also often known as the 6×5.5 bolt pattern.

Having high centers of gravity, trucks and SUVs frequently use this lug pattern. It is capable of performing effective weight and torque control for these vehicles.
Off-road vehicles or those with specialty tires and wheels to handle rough terrain also witness a surge in the use of this bolt design thanks to its exceptional adaptability.
What Cars Have 6×139.7 Bolt Pattern?
The 6×139.7mm or 6×5.5-inch pattern has gained popularity among many car companies, including Acura, BAIC, BAW, Cadillac, Chery, Chevrolet, and DR vehicles.
The following chart will deliver further information about the specific model and released year.
Model
Year
Acura
Acura SLX
1995-1999
BAIC
BAIC B40 Plus
2021-2024
BAIC BJ40
2014-2024
BAIC BJ40 Plus
2018-2024
BAIC BJ40 SE
2020-2024
BAIC BJ40L
2016-2019
BAIC BJ80
2016-2024
BAIC F40
2019-2024
BAIC X424
2015-2021
BAW
BAW BW007
2011
BAW BW007
2015
BAW Luba
2012
BAW Luling
2012
BAW Qishi S12
2009
BAW Qishi S12
2011
BAW Ruiling
2012-2014
BAW Ruiling
2019-2020
BAW Warrior
2009-2020
BAW Warrior Pickup
2018-2020
BAW Yueling
2012
BAW Yueling
2014
CADILLAC
CADILLAC Escalade
1999-2000
CADILLAC Escalade
2002-2023
CADILLAC Escalade-V
2022-2023
CHERY
CHERY Aika
2013
CHERY Grand Tiger
2011-2014
CHERY H5
2010-2016
CHERY P10
2013-2018
CHERY Transcom
2010-2019
CHEVROLET
CHEVROLET Astro
2003-2005
CHEVROLET Avalanche
2007-2013
CHEVROLET Avalanche 1500
2002-2006
CHEVROLET Blazer
1973-1994
CHEVROLET Blazer
1997
CHEVROLET C10
1967-1970
CHEVROLET C2500
1988-2000
CHEVROLET Cheyenne
2007-2023
CHEVROLET Colorado
2004-2024
CHEVROLET D-Max
2005-2021
CHEVROLET Express 1500
2004-2014
CHEVROLET Express 2500
1996-2006
CHEVROLET Express Cargo
2010-2014
CHEVROLET Express Pasajeros
2010-2015
CHEVROLET K10
1975-1987
CHEVROLET K1500
1988-1999
CHEVROLET K1500 Suburban
1992-1999
CHEVROLET K2500
1988-2000
CHEVROLET LUV
1997-2005
CHEVROLET S10
2012-2023
CHEVROLET Silverado
2014-2024
CHEVROLET Silverado 1500
1999-2023
CHEVROLET Silverado 1500 Classic
2007
CHEVROLET Silverado 1500 LD
2018-2019
CHEVROLET Silverado 1500 Limited
2022
CHEVROLET Silverado LD
2019-2023
CHEVROLET Sonora
2000-2006
CHEVROLET Suburban
2007-2023
CHEVROLET Suburban 1500
2000-2014
CHEVROLET T-Series
2018-2023
CHEVROLET Tahoe
1995-2023
CHEVROLET Tavera
2004-2018
CHEVROLET TrailBlazer
2013-2023
CHEVROLET V1500 Suburban
1989-1991
DR
DR PK8
2023
DAEWOO
DAEWOO Korando
1999-2001
DAEWOO Musso
1999-2002
DONGFENG
DONGFENG Xiaokang C71
2021-2023
DONGFENG Xiaokang C72
2021-2023
DONGFENG Ruichi EC71L
2021-2023
DONGFENG Ruichi EC72
2021-2023
DONGFENG Hushi
2012
DONGFENG Oting
2007-2013
DONGFENG Yufeng P16
2017-2021
DONGFENG Pickup
2012-2015
DONGFENG Rich Pickup
2005-2022
DONGFENG Rich SUV
2010-2015
DONGFENG Yufeng S16
2017-2019
FAW TOYOTA
FAW TOYOTA Land Cruiser Prado
2004-2020
FAQs
Can 6×139.7 Pattern Replace Other 6 Lug Patterns?
Yes. But make sure you have these in mind:
The offset of the replacement wheels must match the original wheels. If incompatible, it may affect how the vehicle handles and performs.
The load rating of the replacement wheels must match or exceed that of the original wheels.
The correct center bore must be present on the new wheels. The wheel will not fit properly if the center bore is too tiny and not be centered on the hub if the center bore is too large.
Be aware that using wheel adapters to fit a wheel with a different bolt pattern is risky. It can make the wheel wobble while placing too much stress on the lug nuts and wheel studs.
Should you be uncertain about any of the above factors, get professional advice from a qualified consultant.
How Do You Measure A 6×139.7 Lug Design?
To measure this pattern, grab a measuring tape or ruler and follow the below steps:
Step 1. Place the measuring tape or ruler across two diagonally opposite lug bolts.
Step 2. Measure the distance between the two lug bolts' centers.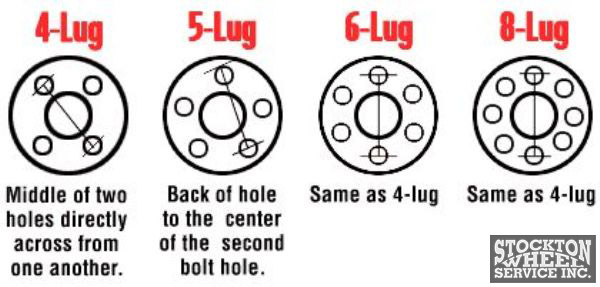 See more: How to Measure Lug Bolt Pattern
How To Choose Wheels For A Vehicle With A 6×139.7mm Wheel Bolt Pattern?
Keep in mind that the offset is the key to holding the amount of space between the wheel, the suspension parts, and the stance of the vehicle in the right place.
Before choosing one, ensure the wheels have the proper bolt pattern and offset.
After that, you are free to proceed. Go for the one made of a sturdy, long-lasting material, such as steel or aluminum wheels.
Pick the matching wheel and tire size. Otherwise, it can cause a stir in the handling and performance of the vehicle.
Conclusion
The 6×139.7 lug pattern is an adaptable bolt design utilized by numerous automobile manufacturers, including luxury and mid-range models.
It can coordinate to support the weight and torque of trucks and SUVs while giving drivers a broader selection of wheels. Though you can swap a 6×139.7 wheel for other 6-lug ones, remember that doing so comes with hidden risks.