Powder Coat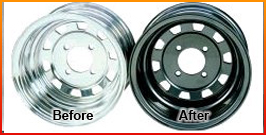 Powder Coating Service
Powder Coating provides our wheel customers with a durable finish which resists cracking, peeling, fading, or marring. Powder Coating offers excellent uniformity without sags, drips, or other surface irregularities.
Extremely abrasion, corrosion and chemical resistant, powder coating provides a finish which is superior to most other organic coatings and looks great with little or no maintenance. Coated parts clean up with soap and water. No polishing is ever required.
---
Chrome Exchange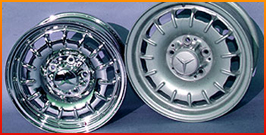 Chrome Wheel Exchange Services
Exchange your stock OEM alloy wheels for brilliant, show quality chrome wheels. Most late model chrome alloy wheels are in stock. Mercedes and BMW are our most popular, but we do a lot of Lexus, Jaguar, Toyota, Nissan, Chrysler products, GM and Ford.
We also have a great selection of OEM style alloys if you just want to upgrade to a different style or larger size. If you an think it up, we can usually provide it. Give us a call today. (800) 395-9433 We offer two great ways to swap your OEM Alloys
---
Wheel Straightening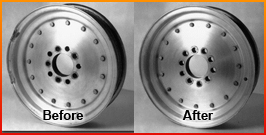 We Can Straightening Your Wheels!
While custom wheel rebuilding is limited mostly to steel wheels, Stockton can straighten forged, spun, cast or billet aluminum wheels. Some wheels may be too mangled to be straightened, but you'd be surprised at the wonders Stockton can work. Stockton's special fixture allows for checking of center section trueness as well as hop (egg-shaped) and wobble (excessive side-to-side run-out).
Not only can Stockton Wheel remanufacture custom steel wheels for nearly any application on a built-by hand, one-by-one basis, but it can also build new steel wheels to your specs and straighten nearly any wheel that's been bent, tweaked, or crunched.
---
Wheel Straightening

WIdening
Stockton Wheel cuts the center out of the steel wheels you provide, or the company will use its cores, when available. Often a center from a 14-inch rim can be used to build a 15-incher using Stockton's new outer wheel piece. Results, custom wheels just for you!
The center is tapped into place to provide the backspacing specified by the customer. Because of outer wheel piece design, there is a range of backspacing each size rim can have (see backspacing chart). Then the wheel is checked with a dial indicator to be sure the center is installed "true" to the outer piece.
Once the center is positioned to Stockton Wheel's strict quality standards, it can be welded in place. Harley welds a small area at a time and checks the wheel with a dial indicator when finished to be sure the heat didn't distort his precision work.
Now the wheel can be painted or powder-coated and is ready to roll down the road. Besides sneaking a slightly larger tire under the rear of late-night race cars, Stockton also fits plenty of Pro Street Rods with "Big 'N' Little" steel rims for a stylish look.
We offer two great ways to swap your OEM Alloys:
Local Installation Service:
If you are located in the Northern California area, give us a call and setup an appointment for the installation and swap of your new chrome alloy wheels. We keep your original painted wheels as "cores" and give you an immediate core credit. There are no shipping costs and you get fast, professional service.
Mail Order Services:
Give us a call and we will arrange for the exchange of your stock OEM alloy wheels. Once we identify your wheels we can send them to you as soon as possible. Once you receive the new chrome wheels you can send your original "cores" back to Stockton Wheel. Upon inspection your invoice is finalized.
Please call for availability. (209) 464-7771