Lugs

Spline Lugs
14mmx1.5 thread, Closed End Duplex XL Spline Tuner Style Lug Nuts, 60 Degree Conical Seat, Total Length 2.0 in long, width 0.9 in, Quantity 24 PCS

Shank, ET and Mag Lugs
Manufactured with SCM 435 cold forged steel. Additional Heat Treating ensures dependable strength & durability.

Tuner/ Acorn/ Spline/OEM GM Lugs/OE
SIZE: 1/2″ Thread size, 13/16″ Hex/Wrench, Total Length 1.68″(42.67mm), Shank Length0.75″(19mm),Width/Diameter 0.68″.
STYLE: Mag Seat, 2-PC standard mag
---
Trim Rings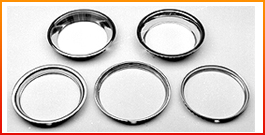 Trim Rings
These 3″ wide beauty rings are designed specifically to fit 15″ x 8″ Speedway Motors GM style rally wheels, ensuring a perfect fit and enhanced aesthetic appeal.
---
Caps

Bullet Caps / Spinner Knock Off

Caps

Ford Caps

Chevy Caps
---
Misc

Spacers

Valve Stem