Dodge Charger is a powerful and cool sedan. However, some drivers still want to tweak a few details to improve the appearance, interior, or driving experience. In case you want to work with its wheels, it would help to understand their specs and bolt pattern. This information may be confusing since they vary according to car generation. Luckily, we've got your back! Dive into our article for Dodge Charger lug pattern.
In this article:
Lug & Bolt Pattern On Dodge Charger By Generation
Dodge Chargers from 1966-1978 had a bolt pattern of 4×4.5″ (5×114.3mm) while they switched to a 4×3.94″ (4x100mm) design from 1982 to 1987. The last change was from 2005 until now, giving these sedans a new pattern – 5×4.53″ (5x115mm).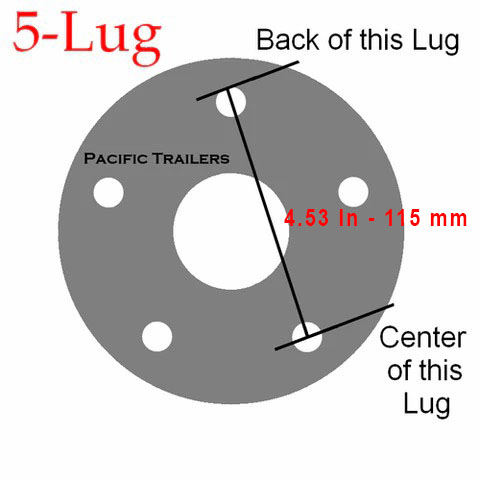 1966 – 1978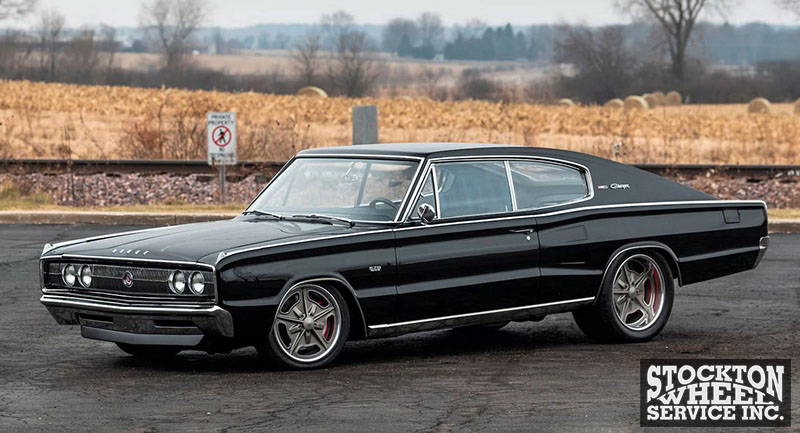 The first Dodge Charger models hit the market in 1966. This version featured the B-Body platform with a 6-foot-wide body and a 117-inch wheelbase.
It also features an electroluminescent backlight, a standard V-8 engine that produces 230 hp. A series of new Charger models were introduced only a year later with minor visual tweaks, such as the fender-mounted turn signals.
Based on the internal structure of its predecessors, the second generation showed off a makeover in appearance. Most products in this period stole the attention of drivers thanks to the sporty steering wheel, deep disc wheel covers, and front bucket seats by vinyl foam. Only the 1970 models served an engine update to the 440 Six Pack, which generated 425 horsepower.
The manufacturer made a big revolution for the 3rd generation. They cut the wheelbase and length compared to the earlier models. Also, they added several useful accessories, such as heavy-duty rear suspension, speed, pressure gauges, a lockable glove box, etc.
Five main bearings, a 4-barrel carburetor, and a 280-horsepower engine were installed for the 1972-1973 outputs. By the last year of this stage, the horsepower was reduced to 275.
Dodge Charger never loses its appeal since every launch often comes with surprises. The 1976 models offered a seven-step automatic coating for rust protection, while those arriving a year later added bucket seats to expand interior passenger space.
In 1978 – the last of the B-Body design on the Charge, the manufacturer only released about 3,000 cars but also brought interesting innovations such as door-mounted courtesy lights or recessed armrests.
Regardless of the adjustments and updates inside and out, the first four generations of the Dodge Charger keep the bolt pattern unchanged. All of its 13 launches came with a 5×4.55″ or 5×114.3 mm lug pattern, meaning 5 lug nuts with an actual diameter of 4.5″.
1982 – 1987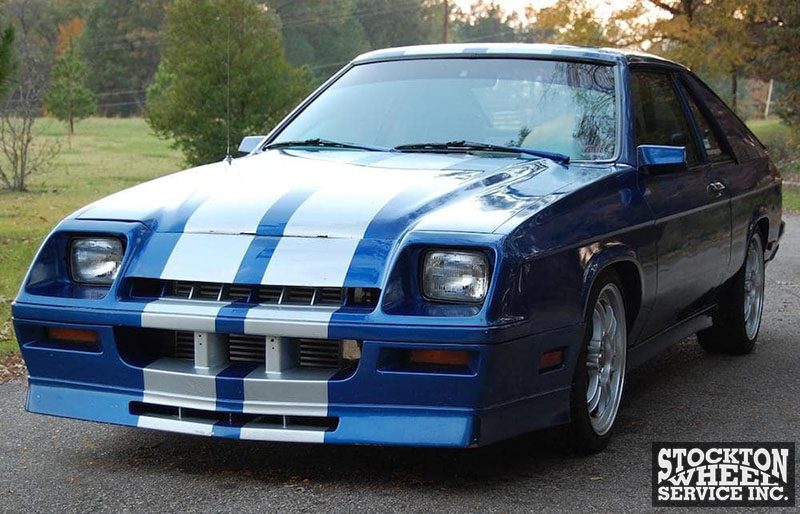 The 5th generation Charger ushered in a new era – the domination of the L-Body (also known as Omni – Horizon) since the summer of 1981. It was the first time the product line had eliminated the V-8 engine and replaced it with front-wheel four-banger ones.
The introduction of the new design has also led to a change in the bolt hole pattern. The 1982-1987 generation had only 4 lugs on an imaginary circle with 3.9 inches in diameter (100 mm equivalent).
Unfortunately, the manufacturer decided to end the Dodge Charger after 6 years and promoted the Plymouth Sundance line in its place.
2005 – Present (2024)
It was not until 2006 that the manufacturer restored the Dodge Charger with some changes: two extra side doors and a few inches longer. The output in 2010 also marked the introduction of rear-wheel drive, which is still available on later models today.
Models in this period have returned to the pattern of 5 lug holes. However, the Dodge Charger pitch circle diameter expanded compared to those from the early days – 4.53 inches or 115 mm.
The latest Charger models from 2011 to present have recorded an improvement in appearance to meet the needs of consumers. For example, the driver's field of vision is 15% wider.
The manufacturer also purposefully improved the appearance of this high-performance sedan in a more aggressive style. They added door grooves, tweaked the aerodynamic shape, and redesigned the angular headlights.
Even so, the lug pattern remains unchanged from 2005: these cars still share the 5×4.53″ (or 5x115mm) bolt pattern.
Other Important Wheel Specs Of Dodge Charger
The bolt pattern witnessed three stages of development, leading to different wheel requirements. Tire and rim sizes, therefore, change with these variations.
1st To 4th Generation (1966-1978)
Center bore diameter: 71.4 mm.
Wheel fasteners: Lug nuts
Thread size: 1/2″ – 20 UNF
Torque spec (estimated): 65 lb-ft (88.1 Nm)
Tire & rim size: Official equipment is not available. However, some experts claimed that these cars have tire sizes of 195/75SR14 or 215/70SR14 and rim sizes of 5.5Jx14 ET5 or 6Jx14 ET0 based on the provided specs (except 7.0/7.2L Hemi engine).
5th Generation (1982-1987)
Center bore diameter: 57.1 mm.
Wheel fasteners: Lug nuts
Thread size: M12 x 1.5
Torque spec (estimated): 95 lb-ft (129 Nm)
Tire size: 175/75R13
Rim size: 5Jx13 ET35
6th Generation (2005-2010)
Center bore diameter: 71.6 mm.
Wheel fasteners: Lug nuts
Thread size: M14 x 1.5
Torque spec (estimated): 110 lb-ft (149 Nm) for RWD or Daytona edition and 140 lb-ft (190 Nm) for Police edition.
Tire & rim size (USDM only)
| | | |
| --- | --- | --- |
| Engine Choices | Tire Size | Range Of Rim Sizes |
| 2.7I V6 | 215/65R17 | 7Jx17 ET22 |
| 3.5I V6 | 215/65R17 or 235/55R18 | 7Jx17 ET22 or 7.5Jx18 ET24 |
| 5.7 HEMI V8 | 235/55R18 or 245/45R20 | 7.5Jx18 ET24 or 8Jx20 ET24 |
7th Generation (2011 – Present (2024))
Center bore diameter: 71.6 mm.
Wheel fasteners: Lug nuts
Thread size: M14 x 1.5
Torque spec (estimated): 110 lb-ft (149 Nm) for RWD or Daytona edition and 140 lb-ft (190 Nm) for Police edition.
Tire & rim size (USDM only)
Engine Choices
Tire Size
Range Of Rim Sizes
Pre-facelift
3.6 Pentastar AWD
235/55R19
7.5Jx19 ET55
3.6 Pentastar 2WD
215/65R17 or 235/55R18
7Jx17 ET22 or 7.5Jx18 ET24
5.7 HEMI
235/55R18 or 245/45R20
7.5Jx18 ET24 or 8Jx20 ET24
Facelift
3.6 Pentastar (Pursuit edition) or 5.7 HEMI (Pursuit edition)
225/60R18
7.5Jx18 ET25
3.6 Pentastar (GT edition)
245/45ZR20
8Jx20 ET24
3.6 Pentastar AWD
235/55R19
7.5Jx19 ET55
3.6 Pentastar 2WD
215/65R17
7Jx17 ET24
5.7 HEMI
245/45ZR20
9Jx20 ET22.5
6.4 HEMI
245/45ZR20, 275/40ZR20, or 305/35ZR20
9Jx20 ET22.5, 9.5Jx20 ET18.5, or 11Jx20 ET-2.5
How To Retorque The Wheel Bolts On Dodge Chargers
Every 25 miles or 40km, experts recommend checking the tires and retightening the nuts. The same principle applies when disassembling the wheel 1-2 days before.
However, you'd better be equipped with the required workflow for each pattern. It is best to check the manual that came with your Charger. If you fail to find it, refer to our quick tutorial below:
Install the torque wrench to each nut individually and then twist it halfway.
If you have 4-lug wheels, screw them like a cross. For cars with five wheel lugs, proceed in the star pattern.
After completing the first round for all the details, start the second one the same way. This time, tighten until you hear a click.
How To Measure The Dodge Charger Lug Pattern?
Since there are 4-lug and 5-lug patterns, we will show you how to measure in 2 ways in case you lose the owner's manual or the stamp on the wheel and can't figure out the diameter.
For 4 lugs: Just measure from one bolt's center to the opposing bolt's center.
For 5 lugs: Measure from one bolt's back to the opposing bolt's center.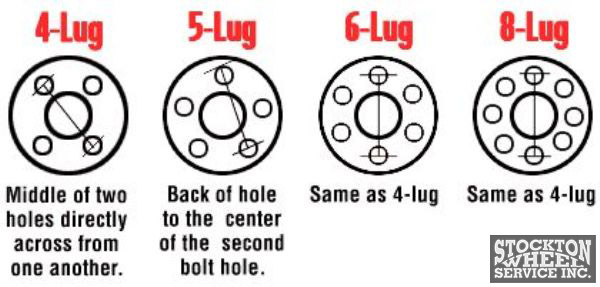 FAQs
What Cars Are 5×114 3 Bolt Patterns?
Besides early generations of Dodge wheels, you can find the same pattern on Honda Civic, Nissan Qashqai, Hyundai i30, Toyota Auris, etc.
What Cars Use A 5×115 Bolt Pattern?
The 5×115 lug pattern dominates Dodge Charger 6th gen, Cadillacs, GMs, Chevrolets, and more.
Conclusion
Though the Chargers only returned to the market almost two decades ago, they have a long history that proves their reliable performance to become one of the best sedans. Even so, keeping a frequent maintenance routine, especially for the wheels, only do good fro you.
And whenever you work with rims, check our tutorial again for the exact Dodge Charger wheel bolt pattern.
See more: Ford Ranger bolt pattern