Like other brands, Ford changed the lug pattern on their models to accommodate engine upgrades. So many new drivers might be confused about their exact specifications.
But don't worry! Below is all there is to know about the Ford Fusion lug pattern. As such, dismantling and reinstalling the wheels should not be difficult.
In this article:
Bolt Pattern For Ford Fusion By Generation
Fusion models from 2013 all have the same lug pattern of 5×4.25 in or 5×108 mm, so there are 5 lug nuts forming a circle of 4.25 inches in diameter. Previous models will come with either a 4×4.25 or 5×4.5 bolt pattern.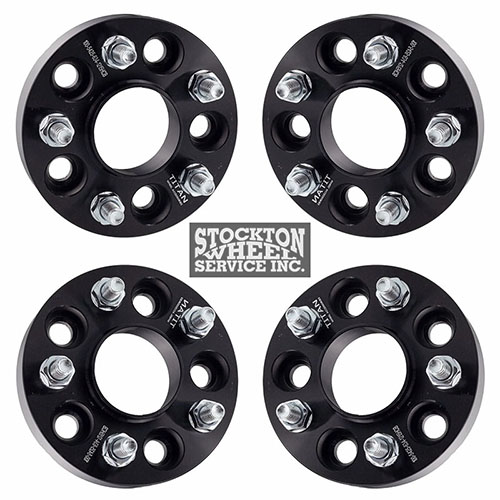 2002 – 2005
The first Fusions were released with two engines: diesel (1.4 or 1.6 TDCi) or petrol (1.25, 1.4, or 1.6i). However, all of these options shared the same lug pattern of 4×108 mm or 4×4.25″. In simple terms, there are 4 bolt holes on the bolt circle with a diameter of 4.45 inches.
2006 – 2012
Ford surprised the market with its 2005 launch when it added two new petrol engine options, the 2.3i and 3.0i V6, which produced 160 and 221 horsepower, respectively. This change resulted in a new wheel bolt pattern of 5×114.3 (or 5×4.5)
Note that the Facelift models still maintained the smaller engine types. This setting means you may bump into old-fashioned lug patterns (4×4.25″) during this period.
2013 – 2021
As of 2013, Ford unified the lug circle on all outputs to 5×108 (or 5×4.25), even with 1.5i and 1.6i engines. The stud count has stayed consistent for the following eight years across two generations: 2013 – 2016 (Fusion II) and 2017 – 2021 (Fusion II Facelift) for all sales regions.
Unfortunately, Ford has decided to end this sedan line from 2022 onwards due to the dwindling sales records. The manufacturer also wanted to focus resources on more popular SUVs after great efforts to increase Fusion profits but failed.
Proper Specifications Of Wheels For Ford Fusion
Corresponding to each design, the manufacturer also delivers different wheel parameters. Checking through the bolt fitment for each item below before performing tire assembly is handy.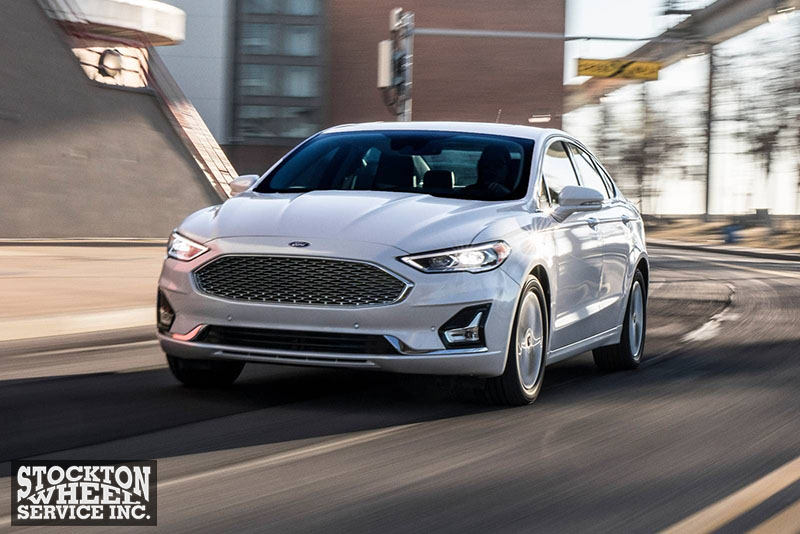 Note: Our information will mainly focus on the US market.
Fusion I (2002-2009)
Center bore measurement: 63.4 mm
Thread size: M12 x 1.5
Wheel fasteners: Lug nut
Torque spec: 100 lb-ft (135 Nm)
Rim & tire dimensions: 195/60R15 and 6Jx15 ET52.5
Bolt Pattern: 4×4.25″ (4x108mm)
Fusion I Facelift (2010-2012)
Center bore measurement: 63.4 mm
Thread size: M12 x 1.5
Wheel fasteners: Lug nut
Torque spec: 100 lb-ft (135 Nm)
Bolt Pattern: 5×114.3″ (5×4.5mm)
Rim & tire dimensions:
| | | |
| --- | --- | --- |
| Engine Choices | Tire Size | Range Of Rim Sizes |
| 2.3L – 2.5L (175 hp) I4 | 205/60R16 | 6.5Jx16 ET40 |
| 2.5L (191 hp) or 3.0L V6 | 225/50R17 | 7.5Jx17 ET44 |
| 3.5L V6 | 225/45R18 | 7.5Jx18 ET44 |
Fusion II (2013-2016) & II Facelift (2017-2021)
Center bore measurement: 63.4 mm
Thread size: M12 x 1.5
Wheel fasteners: Lug nut
Offset Range: 48 – 52
Torque spec: 100 lb-ft (135 Nm)
Bolt Pattern: 5×4.25″ (5x108mm)
Rim & tire dimensions:
FAQs
What Wheels Fit A Ford Fusion?
Fusion cars hit the market with various wheel sizes, including 16, 17, 18, and 19-inch rims.
What Cars Have A 5×108 Bolt Pattern?
Besides the Fusion line, the common bolt pattern of x dominates several vehicles such as Ford Focus and Transit, Peugeot 407, Volvo XC60 and XC70, Land Rover Freelander II, etc.
Conclusion
There are many motivations for wanting to upgrade the wheels on your sedan, such as extra power or custom aesthetics. Regardless of your goals, learning the Ford Fusion bolt pattern is the first thing to do to avoid technical mistakes. In case you consider a new part, combine it with the wheel specs for the exact tire size.
See more: