If you're a vehicle owner on the quest for budget-friendly wheel alignment services, Walmart has long been a go-to option. But as the fee of maintaining your car can vary considerably, you might be wondering: How much does a wheel alignment cost Walmart?
Let's learn the typical pricing for wheel alignments at Walmart Auto Care Center and delve into factors that can influence the final bill.
In this article:
Does Walmart Do Alignment?
While Walmart had been providing tire alignment services for years, the company announced that they have discontinued this service since 2022. But you can still enjoy other automobile services at this retail store.
This shift in their service offerings is essential information for both longtime customers and those considering Walmart for their automotive needs.
Wheel alignments are critical for ensuring your vehicle's optimal performance, tire longevity, and safety on the road. The auto repair center's alignment services were often sought after for their accessibility and competitive pricing.
Although Walmart no longer offers 2-wheel or 4-wheel alignment services, you may want to explore alternative providers. These include places like local auto repair shops, tire retailers, or dedicated alignment centers for your alignment needs. We have also gathered an exhaustive list of other facilities that perform this service, which you can check in the section below.
How Much Does An Alignment Cost At Walmart?
Before Walmart Auto Centers stopped the service, the cost of a wheel alignment ranged from $50 to $75 for a standard front-end (two-wheel) alignment. If you need a more comprehensive four-wheel alignment, the Walmart tire alignment prices are between $75 and $100. Still, notice that this is the old price as the company has stopped providing this service.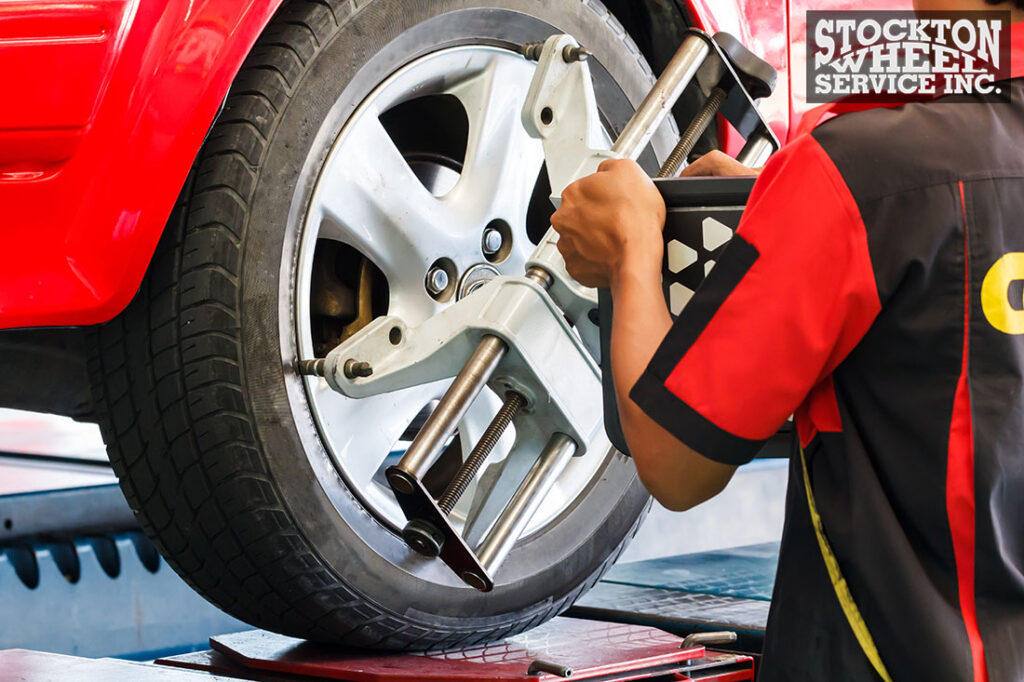 Before, these prices may vary based on several factors as below.
Location: Prices can vary based on the cost of living in your area and regional current pricing trends.
Type of alignment: A two-wheel alignment is generally less expensive than a four-wheel alignment since it involves adjusting only the front wheels.
Vehicle type: The size and type of your vehicle can impact the price. Larger vehicles may require more labor and precise adjustments.
Additional services: If your vehicle has specific alignment issues or requires other adjustments, the cost may increase.
Promotions and discounts: Walmart often offers promotions and discounts on automotive services, so it's worth inquiring about any ongoing deals.
As you can tell, they were competitive and made Walmart a popular choice for budget-conscious vehicle owners seeking alignment services.
Other Places You Can Get Alignments
While Walmart used to be a go-to option for budget-friendly wheel alignments, recent changes in their service offerings have left many wondering where else they can get this crucial service. Fortunately, there are several reputable alternatives to Walmart for wheel alignments, offering a range of options to suit your needs.
Tires Plus ($70 – $90): Tires Plus is a reliable choice for wheel alignments, with trained technicians who can ensure your vehicle's wheels are properly aligned.
Midas ($89.99 – $129.99): Midas, known for its comprehensive automotive services, provides this wheel service to help maintain your vehicle's performance.
Mr. Tire ($50 – $129): Mr. Tire offers wheel alignment services as part of its commitment to keeping your vehicle running smoothly.
Jiffy Lube ($50 – $95): In addition to oil changes, Jiffy Lube may offer basic wheel alignment checks and services.
Goodyear ($70 – $100): Goodyear, a renowned tire brand, also offers wheel alignments to ensure proper handling and avoid uneven tire wear.
Sears Auto Center ($99.99 for 6 months): Located within some Sears stores, Sears Auto Center provides alignment services among its array of automotive offerings.
Firestone Complete Auto Care ($80 for 12 months and $200 for lifetime): Firestone is a well-established name in the automotive industry, offering wheel alignments to enhance your vehicle's safety and efficiency.
Big O Tires ($80 – $120): Big O Tires typically provides wheel services to help keep your vehicle on the right track.
Discount Tires (From $89.99): a prominent tire retailer, the discount tire wheel alignment cost is not too expensive.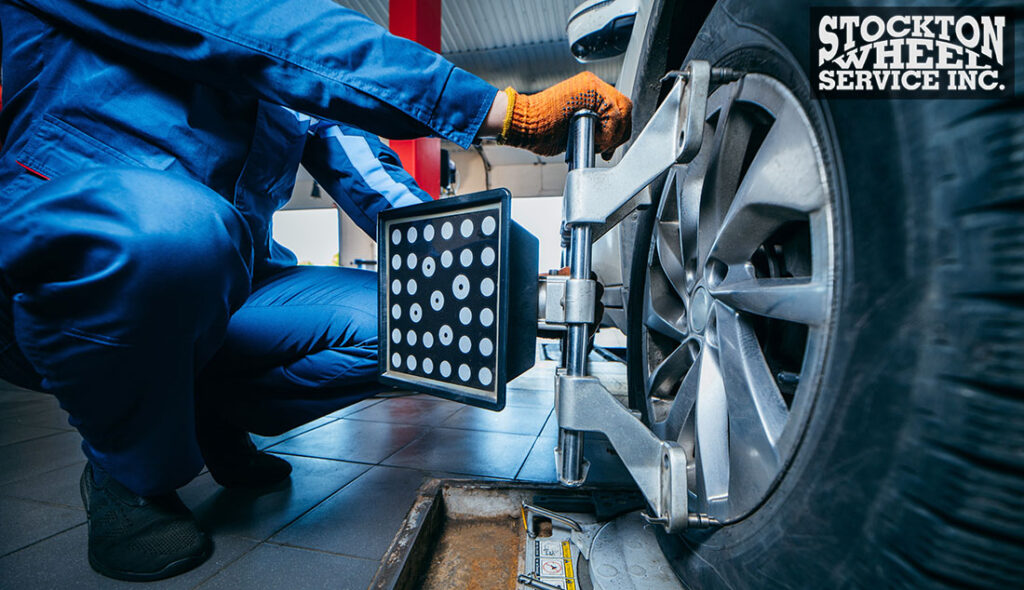 When selecting an alternative to Walmart for wheel alignments, notice that you need to put several factors into consideration. This includes the reputation of the provider, the expertise of their technicians, the quality of their equipment, pricing, and any promotions or discounts that may be available.
Other Auto Services At Walmart
Besides wheel alignments, Walmart Auto Care Centers offer a variety of automotive services, such as high-mileage oil change, tire service, etc., to meet the maintenance and repair needs of vehicle owners. Some of the common auto services available at Walmart include:
Tire Installation: Walmart sells a wide selection of tires, and they provide basic tire installation services. This includes mounting, balancing, and installing new tires on your vehicle. They can also handle tire repairs, tire rotations, and correct pressure checks.
Oil Changes: Walmart offers oil change services with different oil types and brands to choose from. Their technicians will replace the oil filter and top off other fluids as needed, helping to keep your engine running smoothly.
Battery Services: Walmart can test your vehicle's battery and, if necessary, replace it with a new one. They also provide battery installation and services.
Brake Services: You can have your vehicle's brakes inspected, and if needed, Walmart can replace brake pads, rotors, and other brake components to ensure your vehicle's safety.
Suspension and Steering: Walmart Auto Care Centers offers services related to your vehicle's suspension components and steering systems, including repairs and part replacements.
Lighting and Electrical: If you have issues with your vehicle's lighting or electrical systems, Walmart technicians can diagnose and repair these problems.
Fluid Services: Beyond oil changes, Walmart can perform various fluid-related services, such as transmission fluid changes, coolant flushes, and power steering fluid replacements.
Air Conditioning Services: They can inspect, repair, and recharge your vehicle's air conditioning system to keep you comfortable in hot weather.
Diagnostic Services: If your check engine light is on or you're experiencing vehicle performance issues, Walmart can run diagnostics to identify the problem and recommend necessary repairs.
Frequently Asked Questions
How Long Does An Alignment Take?
A basic front-wheel alignment can be done in about 30 minutes, while a more comprehensive four-wheel alignment may take up to 1.5 hours. The specific service time can also vary based on the vehicle's condition and any additional adjustments or repairs needed.
Does Walmart Put Your Tires On For Free If You Buy All 4 Tires?
No. Walmart offers basic installation services for a fee of about $68 in total when you purchase tires from them. The cost typically includes mounting, balancing, valve stems, and tire disposal. While they may run promotions or discounts occasionally, it's not common for them to provide tire installation for free when you buy all four tires.
Will Walmart Let Me Keep My Old Tires?
No. Walmart's tire installation service generally includes tire disposal, which means they will typically take your old tires when you purchase new ones from them. They'll properly dispose of or recycle the old tires in an environmentally responsible manner.
The Bottom Line
You might naturally ask if Walmart offers alignments if you're searching for a shop for all of your auto repair needs, yet they don't. Since the before walmart tire alignment cost is quite reasonable, it is a pitythat they don't perform the task anymore. While the majority of Walmart locations offer complete vehicle maintenance, you will need to find a different place for routine tire alignment.
Regardless of where you choose to get your alignment done, remember that this maintenance service is essential for your vehicle's safety, handling, and tire longevity. Proper wheel alignment ensures a smoother and safer ride, making it a valuable part of your vehicle's upkeep.
See more: Do You Need Alignment With New Tires